Starting Point

St. Paul's Chapel
209 Broadway
New York, NY 10007






Transportation

By foot &
public transport






Duration

One day





---
Description
New York City is a place rich in history and architecture of an age gone by. A history lover's playground, NYC boasts buildings dating back to the 1700s before America was a nation. Though NYC is home to nearly 200 structures listed on the National Register of Historic Places, we have chosen out just a few of the most famous and interesting for this itinerary. On this day tour of NY historic buildings you will find buildings which were involved in the American Revolution, buildings that hosted presidents, buildings that have been places for worship since the city began and buildings purported to be haunted by their former residents!
---
Morning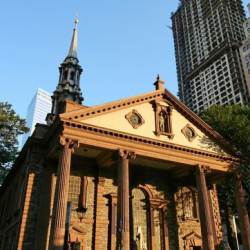 Saint Paul's Chapel
209 Broadway • New York, NY 10007

Begin your day at St. Paul's Chapel, built in 1764 it is the oldest standing church in Manhattan. Step into a building that has survived bombings and fires, and has been a place of worship and respite for presidents and heroes. George Washington attended this church on his inauguration day in 1789; over 200 years later it played host to relief workers after the September 11th attacks as a place of shelter and rest. Walk amidst the stone monuments in the tiny graveyard in front of the church – many dating back to before America was formed as a nation. The chapel is open to visitors from 10am - 6pm on weekdays, 10am - 4pm on Saturday, and 7am - 9pm Sunday. While in the area you might also want to walk down Fulton Street to the National September 11Memorial. Though not old it is certainly worth visiting and deeply entwined in NYC history.
---
After visiting the Saint Paul's Chapel, walk two blocks north on Broadway to get to the Woolworth Building and City Hall.


---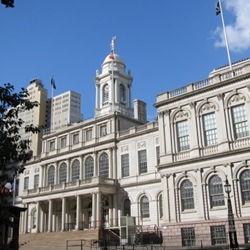 The Woolworth Building and City Hall
233 Broadway & 260 Broadway • New York, NY 10007
At one time the tallest building in the world, the Woolworth building's 55 stories still stand out against the skyline as an impressive and beautiful example of neo-Gothic architecture. Built in 1913, this building attracts tourists as one of NYC's most famous skyscrapers. Though the inside has been closed to visitors since 9/11, it is still an impressive building to see from the outside, and architecture buffs will delight in observing the style and ornate decorations of the towering building. Across the street from the Woolworth building is City Hall Park where you can relax in the shade of the park's many trees or people watch from a bench near City Hall. After your rest, take a stroll over City Hall, located in the center of the park, to see the wonderful 1811 French Renaissance Revival building that houses the mayor's office. Free tours of the inside of City Hall are available on weekdays where visitors can see the vaulting ceilings, Corinthian columns and marble stairways that make up the American-Georgian Revival style inside of the building.
---
Once you've checked out the Woolworth Building and City Hall, take the R subway from City Hall to Whitehall Street (about 6 minutes) to Fraunces Tavern for some lunch.


---
Afternoon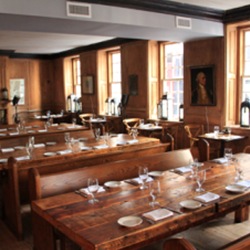 Fraunces Tavern
54 Pearl Street • New York, NY 10004

For lunch, visit the Fraunces Tavern restaurant where you can order from a menu of traditional Irish and American food. Also home to one of the largest selections of draft beer in the city! Built in 1719, this tavern is Manhattan's oldest surviving building. Historically one of the meeting places of the Sons of Liberty this tavern was an integral gathering place during the American Revolution and host to a celebratory feast for General George Washington after the last British troops evacuated NYC. The restaurant is open for brunch, lunch and dinner.
After dining, be sure to check out the attached Fraunces Tavern Museum where for a small fee you can see drawings, paintings, documents and artifacts dating back to the colonial period of US history. The museum is open Monday - Sunday 12pm to 5pm.
---
After lunch, take the R subway from Whitehall Street to 8th Street (about 12 minutes) and then walk southwest on Broadway – turn left onto East 4th Street (about 5 minutes) OR take a taxi (about 10 minutes) to Merchant's House Museum.


---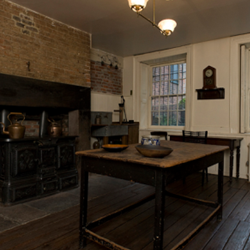 Merchant's House Museum
29 East Fourth Street • New York, NY
Built in 1832, Merchant's House boasts that it is NYC's "only family home to have survived virtually intact, inside and out, from the 19th century." A great example of Federal brick architecture, the house has the preserved belongings (furniture, books, photographs, decorations, clothing, and personal items) of the wealthy Tredwell family and their Irish servants. Also hailed as NYC's most haunted house, Gertrude Tredwell is thought by many to still reside in her upstairs bedroom. If you are visiting in October you may want to sign up for the museum's Candlelight Ghost Tours. The museum is open Thursday – Monday 12-5pm.


---
Once you've seen the beautiful museum, walk 3 blocks down Lafayette Street, turn left onto Bleeker Street and right onto Mulberry Street (about 10 minutes) to St. Patrick's Old Cathedral.
---
St. Patrick's Old Cathedral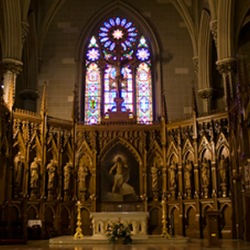 260 Mulberry Street • New York, NY

Not to be confused with St. Patrick's Cathedral in midtown, this smaller gothic revival cathedral was built in 1809. At one time the largest church in NYC St. Patrick's Old Cathedral was the seat of the Roman Catholic Archdiocese of NY until 1879. Now a New York City Landmark and a minor basilica rather than a cathedral, the building's old name continues in popular usage. Still an active parish church, services are held regularly here throughout the week.
---
The day is not over yet! Walk north to the corner of Lafayette and Houston and take the M21 bus from Lafayette Street to Spring Street and Greenwich street (about 12 minutes) OR Take a taxi (about 6 minutes) to the James Brown House for dinner and drinks.
---
Evening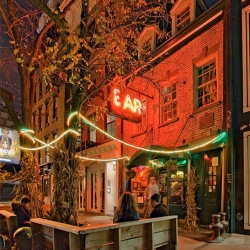 James Brown House
326 Spring Street • New York, NY 10013
End your day with a visit to The Ear Inn, a bar located in the historic home of James Brown – an African-American Revolutionary War veteran. This federal style building was built in 1817 for James Brown, and has since that time been used as a tobacconist, brewery, restaurant, speakeasy, brothel, smuggler's headquarters and boarding house. The current bar is decorated with memorabilia from its past and artifacts excavated from the house's basement. Claiming to be the oldest working bar in the city, the building is a NYC Landmark.