230 Fifth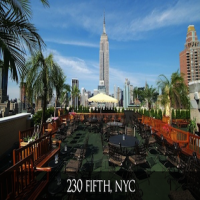 An Amazing Party At 230 Fifth!
Let 230 Fifth be the place of choice in having a wonderful Bar Mitzvah party, they offer to cater to you on your every needs, they provide good food, great music and an elegant venue where you can enjoy yourself and have fun. A premier party venue here in New York, 230 Fifth offers an amazing scenery's of New York for everyone to enjoy.

Contact 230 Fifth and make your reservations, you will definitely love this place and will enjoy its good accommodation.