Balloons Aloft, Inc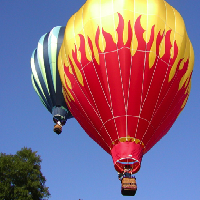 Let the Wind Carry You Far
Balloons Aloft, Inc is a hot air balloon operating company that provides a one of a kind experience. Hop aboard one of their balloons and let the wind carry you far and away as you sip champagne and revel in awe of the beautiful horizons around you. Visiting Balloons Aloft in New Jersey is surely a once in a lifetime experience and is definitely one cool thing to do in the state.

All you have to do when you want to fly in a hot air balloon is choose the date and give them a call to make the appointment. You can choose any date of the year as long as the weather permits flying. You're there and it's too windy? Don't worry, you can reschedule the flight at your convenience or if there isn't any other date for you, you get a refund of your deposit. Book now!