Calverton Shooting Range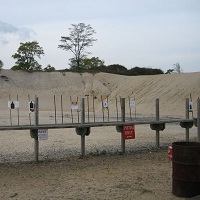 Great Target Shooting
Like shooting? Then come to Calverton Shooting Range in NY. It is a private shooting range and a homeland security training facility located in Eastern Long Island. It offers 10, 15, 25, yard pistol range, large and small bore 50, 100, 200, 300 yard rifle range, 50 yard black powder and shotgun range, and an archery range.

Working hours are subject to change depending on the season. For more information, visit the website. Range fees: $15/day rifle, pistol and archery, $18/day trap, and $255/year pass. Since you can not rent weapons, you should bring your own firearms.