Central Park Carriages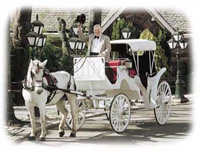 A Wedding Ride Filled With Elegance And Style!
Have the best wedding of your life and make it special with a horse drawn carriage, it will surely make your event a spectacular and a classy occasion that you will really enjoy. Have Central Park Carriages provide an elegant and classy horse drawn carriage that will satisfy your needs on your wedding day and make you feel truly special on your wedding day.

Make your reservations and have Central Park Carriages provide a wonderful horse drawn carriage for your wedding day. They will provide to you nothing but the best horse drawn carriage to complement your wedding.