Circa Tabac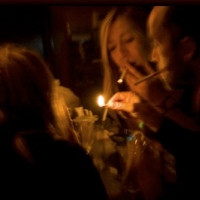 One of the Few Bars in NY where you can Smoke!
Tipping a hat to the bygone era of jazzy indulgence, Circa Tabac allows you to light up a cigarette or cigar, while enjoying a couple drinks with friends. One of the only smoking bars NY has to offer; the place offers an impressive array of appetizers, coffee, desserts, cocktails, wine, and beer. Listen to cool jazz, hip-hop, funk, pop, and rock tunes while you enjoy your cigarettes and cocktails.
Circa Tabac is open every day from 11 A.M. until late at night. The venue is available for events and private parties. Maximum capacity is 100 people. With the bar's state-of-the-art ventilation system, even your non-smoking friends could possibly join you!