Colonial Rifle and Pistol Club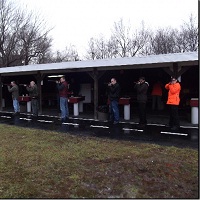 Learn to Shoot in a Safe Environment
If you are looking for a shooting range in NY, come to Colonial Rifle and Pistol Club. It was founded in 1936 and ever since has offered legal, organized rifle and pistol shooting. The range is an outdoor facility with a 21 point, 50 yard pistol range with turning targets at 25 yards and a 14 point, 200 yard rifle range with a stepped berm at 100 yards. The ranges are separated by a bullet-proof wall and are operated independently.

Colonial Rifle and Pistol Club features a large heated clubhouse and separate rest-room facilities for men and women. The off-street parking can accommodate 60 cars. You must be a member or a guest of a member if you want to fire on the range. For more information, visit the website.