Duke O Fluke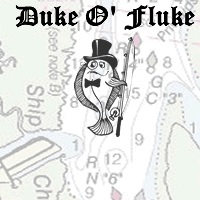 Sail With Duke O Fluke Now!
The Duke O Fluke is a New Jersey fishing boat that sails from Higbee Avenue in Somers Point, New Jersey. There are two trips daily, one is at 8 am and the other one is at 1 pm. You can fish the back bay areas for bluefish, sea bass, flounder and weakfish. Fishing and the evening charters are available as well as a narrated nature tour provided by the staff of the Duke O Fluke.
The private charters and the other circumstances sometimes affect the availability of your preferred trip so the Duke O Fluke recommends you call them prior to the day you will be coming. They can be reached at the number provided on this listing.