Elegantly Iced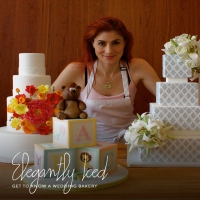 A Wedding Cake That Emulates Beauty!
Elegantly Iced offers wedding cakes that are elegantly designed and hand-crafted in detail to make the perfect wedding cake that makes a great center piece for the wedding. For many years Elegantly Iced has made many wedding cakes, each of them unique and elegant to satisfy clients. With its highly trained pastry chef, headed by Lindsey Gamble, Elegantly Iced is one of New York's best cake designers in the city.

So if you're planning for a perfect wedding, have your wedding cake designed by the best, only at Elegantly Iced.