Gallop NYC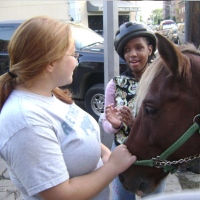 Horse Therapy in NY from Experienced Professionals!
Providing therapeutic horseback riding to people in the New York area, Gallop NYC uses interaction with horses to promote the growth and function of mental abilities in a safe, supportive, and fun manner. Therapeutic riding uses the pleasures of horseback riding and care of horses to help people develop social, emotional, and physical goals. Under the direction of a certified riding instructor and the guidance of an experienced physical therapist, students can learn all the required basics of horseback riding.
Gallop NYC has taught people with a variety of disabilities including autism, cerebral palsy, multiple sclerosis, traumatic head injuries, pervasive developmental disorders, mental retardation, and those who have suffered emotional trauma. For some of the best equine therapy in New York, contact Gallop NYC today!