Helium Comedy Club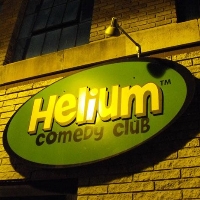 Get Ready for the Greatest Laugh in Philadelphia
Helium Comedy Club in Pennsylvania is another option for your nightlife entertainment in the city. Visitors will have a great laugh and the facility is a non-smoking one. Be ready to taste a mix of quality starters, mouthwatering desserts and a full service bar. Be ready to have a cheerful night of your life with performances from the greatest talent in the intimate theater setting.

The staff does an excellent job with their service. The table layout is arranged so that guests can get a good view of the stage from every angle. The Helium Comedy Club is big enough to host famous comedians like Jim Norton, Marc Maron and Joe Rogan.