Horse Sleigh Farm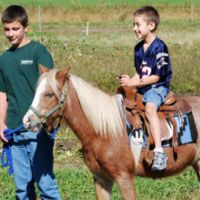 Cowboy-Style Pony Parties!
One hour drive from New York, Horse Sleigh Farm prepares great pony parties for your kids. They'll get to ride, groom and feed the lovely ponies, and after that, they can eat pizza or cake (provided you want to bring some) in the pony party room. The room is nicely decorated in cowboy style and has lots of games children can play.

The farm has many other fun activities for the whole family: pumpkin picking, hayrides, a petting zoo, horse drawn wagon rides, gem mining and many many others. Use the online booking calendar to find an available date for your party.