My Glamour Party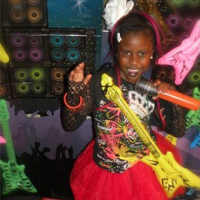 Make a Rock Star Karaoke Video in NY!
Throw your little rock star karaoke party in NY with My Glamour Party. Choose the Rock Star Diva party package, and get a bunch of cool party favors and entertainment. This all-inclusive package includes a funky hair style for each girl, rock star clothes, a manicure, make-up, and of course, karaoke!
The girls will even get a chance to make a music video while they are singing and dancing to karaoke, and they will take a group photo for the memory books.