Gansevoort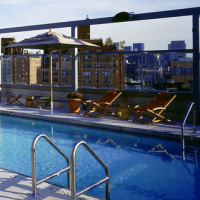 Throw your Kid a Roof-Top Hotel Pool Party in NY!
You, your child and guests can live like a Kardashian at this hotel party location in NY, the Gansevoort. Spend the party relaxing all day at the rooftop pool with a lifeguard on duty. Throw your kid the party of a lifetime and host a fun-filled hotel party in NY at this beautiful hotel.
The Gansevoort also has kid-friendly accommodations, including free baby amenities, a room-service kid's menu with standard kiddie foods such as chicken fingers, PB&J, cookies and milk, and more, and free Nintendo Wii video game systems. Your kids will absolutely love this NY hotel party!