The Fuzzy Lemons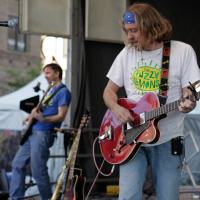 Jam out to this Kid-Friendly Band in NY!
This children's band in NY will work with your wants and needs for your child's next birthday party. Whether you're looking for a large band with a saxophone, guitar, bass, drums, vocals and keyboards, or a small acoustic band, they offer it all!
This NY kid's musician for hire is sure to impress kids and adults alike. No matter how old the birthday kid is, or how big the venue is, the Fuzzy Lemons guarantee to accommodate to your special kid's party or event.