Mountainside Stables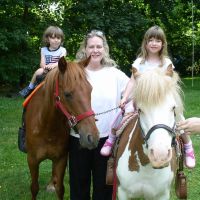 Fun Fun Fun with the Animals!
Whether you want a pony party at your location or at the farm, Mountainside Stables can provide both. The farm houses 10 ponies of all sizes. The pony parties at the premises last for 2 hours and adds up to the exciting and fun pony rides and attractions like the petting zoo, moon bounce and the use of the party room. Feel free to decorate the room and bring food for the kids. The farm can supply pizza and cake for an additional cost.

The traveling pony party and petting zoo can move all around New York at your convenience.