New York Jiu Jitsu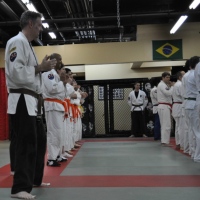 Learn Brazilian or American Jiu Jitsu, or Other Martial Arts!
Whether you're looking to learn Brazilian Jiu Jitsu, American Jiu Jitsu, Muay Thai, Pekiti Tirsia Kali, or mixed martial arts; New York Jiu Jitsu has it all! The NY jiu jitsu classes are perfect for those looking to gain confidence in defending themselves or to train with like-minded athletes in preparation for the MMA circuit.
Throughout your training you will gain increased flexibility and strength, as well as improve fitness and relieve stress. New York Jiu Jitsu offers beginner and advanced classes for men, women, and children. Hours are 10 A.M. to 8:30 P.M. on weekdays, 10 A.M. to 3 P.M. on Saturdays, and 3-5 P.M. on Sundays.