New York Party Artz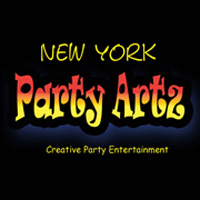 New York Party Artz Serves Up Their Special Brand of Creativity
New York Party Artz, one of the best airbrush artists in New York, is perfect entertainment for your special event. If you need onsite custom airbrushing, coupled with gifted/talented, imaginative artists, to help organize your event and make it the best ever, New York Party Artz should be your first choice!

They are able to conveniently supply you with favorites such as back packs, ball caps, bandanas, boxer shorts, crew neck sweatshirts, drawstring bags, head bands, knit beanies, long- or short-sleeve tee-shirts, tote bags, mouse pads, pillow cases, tennis sun-visors, tank tops, etc. In addition to familiar/standard airbrush artwork, New York Party Artz can customize artwork for you -- making your celebration even more special.