New York Water Taxi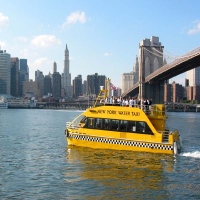 Water Taxi in New York!
What better way to see New York than with its famous water taxi? It's a great way to go sightseeing to the amazing landmarks of New York City. See the dazzling skyline and the beautiful Brooklyn Bridge and its magnificent structure. New York Water Taxi is a great way to commute in the waters of New York, where you get to appreciate the city more and just see the masterpieces of New York's architecture.

So enjoy your trip to New York and cruise around with New York Water Taxi for a memorable and a wonderful experience.