Rockefeller Center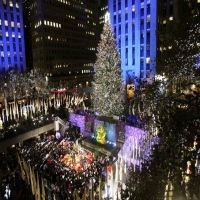 Have A Great Time Here At Rockefeller Center!
Rockefeller Center offers its visitors a wonderful experience in which they can see the spectacular scenery of New York. Enjoy Great food and Amazing tours in the area. It is definitely one of the best attractions here in New York. Rockefeller Center offers something unique and special for its visitors in which they will truly see the best of what the city has to offer.

Come to Rockefeller Center and enjoy the great entertainment and good food, you will definitely love this place.