Ron Ben-Israel Cakes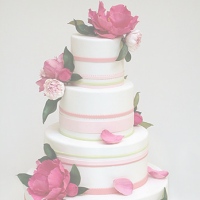 Wedding Cakes in NY from a True Maestro!
If you're on the lookout for some of the most delicious wedding cakes in New York, why not purchase one from pastry genius Ron Ben-Israel? In less than a decade, Ron's artistry became legendary, earning him the reputation of one of America's true cake maestros. He's even made appearances on such TV shows as The Oprah Winfrey Show, Martha Stewart Living, and The Late Show with David Letterman. Plus, his beautiful cake creations have been featured in such national periodicals as Town & Country and New York Magazine.
Business hours are Monday through Friday, from 9 A.M. to 4 P.M. If you'd like to schedule a cake tasting, you may do so during that time frame. All consultations and tastings last approximately an hour.