Ron James Orchestra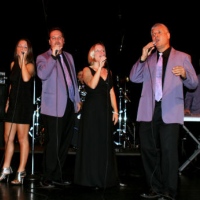 Playing the Best Dance Tunes from the 1930's until Today!
As New York's premier wedding band, the Ron James Orchestra performs regularly throughout the tri-state area, bringing people the liveliest wedding music that keeps everyone glued to the dance floor. Hear some of the best dance tunes from the 1930's until today! Genres include Top 40 hits, dance, classic disco, rock 'n roll, Motown, standards, big band, ethnic, R&B, and hip-hop. Plus, the band constantly keeps everyone engaged with lots of group participation.
The reputable NY wedding band believes in playing everything live without the computerized support that many current bands depend upon. The band members do everything possible to make sure each song sounds almost exactly the original recording! The Ron James Orchestra also plays at charity events, corporate functions, catered affairs, and private parties.