Side Hill Farm
serving Eastern New York, Rhode Island, Connecticut, and Southern Massachusetts, , NY
http://sidehillfarm.biz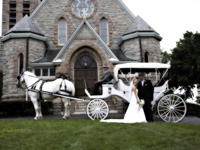 A Fun Ride On Your Wedding Day!
Ride with style and elegance and have a horse drawn carriage at your wedding day, enjoy the fresh air at your travel and appreciate the beauty and class of your wedding carriage. Side Hill Farm will provide to you nothing but an amazing wedding carriage in which you will definitely be satisfied by it wonderful decors and elegant designs.

Have Side Hill Farm provide a horse drawn carriage on your wedding day, you will surely enjoy the great ride.