Sing Sing Karaoke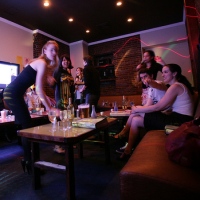 One of the Most Beloved Karaoke Bars in New York!
One of the most well known and aged karaoke bars in NYC, Sing Sing Karaoke is the perfect hangout spot for you and your friends. When you swing by Sing Sing Karaoke, you're given a selection of approximately 2,000 songs! The website even allows you to build your playlist ahead of time.
If you'd like to reserve a karaoke room ahead of time, you may do so on the website by filling out a brief information form. The bar is open everyday from 1 P.M. to 4 A.M. For your convenience, there's also a Sing Sing location on 81 Avenue A in NYC.