St. Mark's Bookshop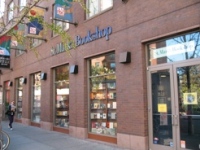 One of the Great New York Bookstores!
Established in 1977, St. Mark's Bookshop caters to students, academics, artists, and discerning readers. The neighborhood is home to New York University and such cultural institutions as St. Mark's Church in the Bowery--which offers theatre, dance performances, and poetry readings. You'll also find many vintage clothing stores, designer boutiques, import shops, antique stores, record stores, restaurants, and bars in the area.
The store is open Monday through Saturday from 10 A.M. to midnight, and Sunday from 11 A.M. to midnight. Check the website regularly to find out about the latest book arrivals, recent store bestsellers, and autographed editions. Gift certificates are available.