Steppin' Out Ponies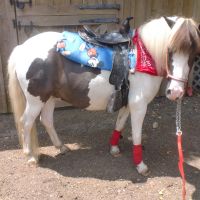 Best Petting Zoo in Long Island!
Voted The Best Petting Zoo by LongIslandPress.com in 2012 and 2013, Steppin' Out Ponies made their appearance on festivals like Long Island Huntington Fall Festival, Baldwin Festival, Schmitt Farms Fall Festival, and many others. Check out their website to see them on News 12! They could be at your house for your kids' next birthday party if you want to make it a special one.

The ponies of Steppin' Out Ponies come in all sizes, so children of all ages can enjoy a ride. Harley, Cowboy, Henry, Prince Charming, Jazz and Randy can't wait to be ridden, pet, tickled and also to kiss the kids. Tell your kid to have a peppermint for Henry, he loves them.