Top of the Rock Observation Deck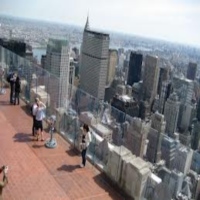 Find the best views of the city here!
Everyone wants to see the beautiful views and sights that New York has to offer. What better way to see everything than with a 360 degree bird's eye view of Manhattan? Here you will find three floors of both indoor and outdoor viewing areas that offer the most amazing views of the city that you won't find anywhere else.
Whether it is day or night you will be absolutely stunned. Don't forget your souvenir! Top of the Rock has a shop where you can get memorabilia and mementos that will help you remember this experience for a lifetime.