Toys R Us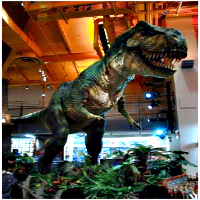 The Best Place for Preschoolers to Have Great Fun
This mega toy store is one of the ideal places to visit with kids when touring the ever vibrant times square of NYC. Apart from the obvious large collection of toys available for purchase, there are plenty of fun things to do at 'Toys R Us". You can take a thrilling ride with your toddler at the giant Ferris wheel or perhaps visit the Barbie dollhouse with your little princess.

However, the giant T-Rex Dinosaur is the biggest highlight at this toy store. Standing at 34-feet-long and 20-feet-high, this animatronic dinosaur will no doubt make any toddler marvel in amazement. For what it's worth, entrance at 'Toys R Us' is absolutely free. This NY toddler attraction opens for business on Monday to Thursday from 10am-10pm, Friday to Saturday between 10am and 11pm and on Sunday 11am to 9pm.