Wet Paint Art Studio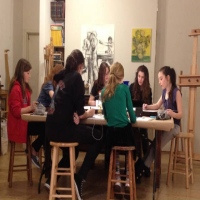 Learn To Love Painting In New York!
It is a great way to relieve you from all the stresses of the bustling city of New York. Painting helps you become more imaginative and creative, where you can express yourself through art. Here at Wet Paint Art Studio, they offer painting classes open for everyone who wishes to learn painting. They offer introductory courses for beginners and teaches them the basics such as color mixing, the theories that apply to painting and the techniques such as oil painting.

So learn to love the art of painting with New York's finest art studio and be inspired to create a work of art.