Sushi Yasuda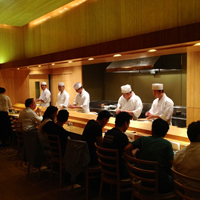 Sushi Yasuda, Keeping it Real with New York Sushi
Known for traditional and classic sushi without any diverting "fusion cuisine" tendencies, Sushi Yasuda has been a top-rated establishment in mid-town for over a decade. The blond wood and bamboo décor's focal point is the L-shaped bar where patrons line up for their piece-by-piece sushi purist's experience.
With a Zagat Survey rating of 28 (extraordinary to perfection) for food, it's not rare to see lone diners, intent on having an uninterrupted intimate encounter with their meal. Of course, the sushi is exquisite, but there's also a tremendous selection of appetizers, sushi omelets prepared in-house, and desserts. Non-fish dishes, such as the maki rolls, shouldn't be overlooked.