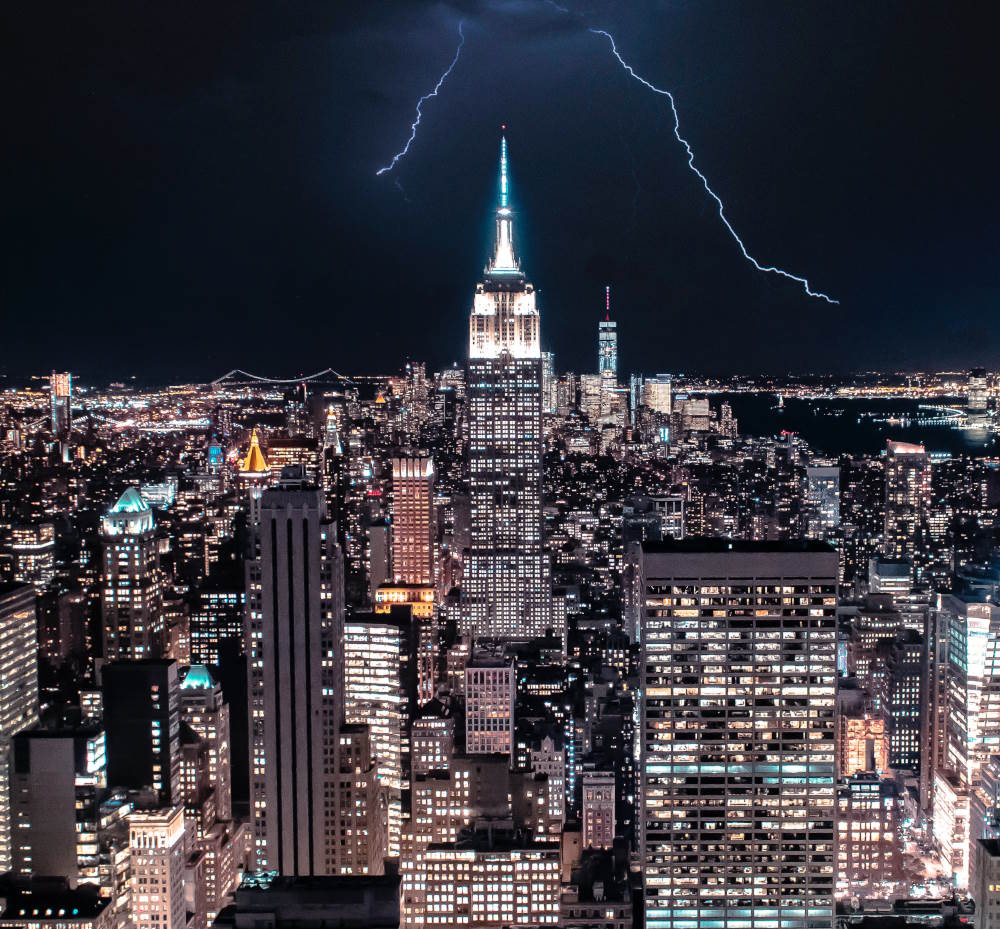 12 Movies to Watch to Transport You to New York City
Filmmakers have always found New York City to be a goldmine of inspiration. Every decade, in every genre, the city's vibrant spirit infuses their stories and characters. It's more than just a backdrop; it's a living, breathing entity that becomes a supporting character in its own right. Sure, you can associate New York with the likes of Martin Scorsese, Barbra Streisand, and even King Kong. But the city's filmography is as diverse as its people, offering up a treasure trove of cinematic experiences. Brace yourself for New Hollywood classics, creature features, dazzling musicals, and even a rom-com featuring a magazine editor. Join us at the top of the Empire State Building, where we'll embark on this thrilling cinematic journey.
Best New York Movies
#1 Wolf of Wall Street (2013)
Everyone's head turns when they see Leonardo DiCaprio in a tuxedo, right? Combine that with the dazzling backdrop of New York City, and you've got me captivated. The film Wolf of Wall Street gives you a rapid-fire peek into the high-stakes world of New York City stockbroking. It doesn't miss a beat, featuring the talented Margot Robbie from Australia and even a surprise appearance by Matthew McConaughey. You absolutely have to watch this film at least once in your lifetime! Plus, it's a fantastic glimpse into Manhattan's bustling financial district.
#2 Someone Great (2019)
Let's meet Jenny (played by the talented Gina Rodriguez), a music journalist ready to embark on her dream job at Rolling Stone in San Francisco. But before she takes off, there's one epic day of fun with her two besties (Brittany Snow and DeWanda Wise). Together, they ditch work and set out on an adventure to snag tickets to a concert while also helping Jenny heal from a double heartbreak: leaving the city she loves and going through a tough breakup. This movie will have you craving a delicious slice of pizza and dialing up your besties to plan a hangout ASAP. Time for some laughter, tears, and unforgettable moments!
Whether you want to explore the history of NY or immerse yourself in its modern life, you can do so if you live in the USA. From here it's easy to learn about New York's famous people, to understand the intricacies of life and the formation of the city and its people. However, many movies will not be available from abroad and the only solution is Kodi VPN from a reliable developer. One of the advanced VPN providers is VeePN, which can bypass the restrictions of Netflix, Hulu, Amazon Prime Video, and other streaming services. With it, you can watch any movie anywhere in the world.
#3 King Kong (1930)
The Empire State Building has made a star-studded appearance in countless Hollywood movies, but none quite compare to its high-flying adventure with King Kong. In the iconic 1933 film, King Kong, a gigantic ape, falls head over heels for a beautiful blonde actress and ends up swatting away airplanes from the top of the Empire State Building. While it may not be as romantically whimsical as Tom Hanks and Meg Ryan's Valentine's Day rendezvous on the observation deck, this New York love story is truly one-of-a-kind. Get ready to witness the magnificent saga unfold!
#4 Home Alone 2: Lost in New York (1992)
Kevin finds himself in quite a predicament, yet the movie effortlessly highlights the charm of spending the holidays in New York City. Despite evading burglars and lacking parental supervision, the grandeur of the Plaza Hotel and the splendor of the Rockefeller Center Christmas tree are certain to bring a smile to your face. Moreover, in this city, there's a chance, just maybe, that you could hunt down a Talkboy. This is definitely the place to be.
#5 West Side Story (1961)
Get ready for some NY magic because the iconic flick, West Side Story (1961), is getting a sassy reboot in 2021. But hold your Shakespeare, fellow thespians, because before it was a film, it started as a kick-ass musical with some Romeo and Juliet vibes. Picture this: 1950's New York, the Upper West Side, a melting pot of races and hard-working folks. And guess what? We follow the doomed love story of our main peeps, Tony and Maria. Brace yourselves!
#6 The Group (1966)
Director Sidney Lumet, born in Philadelphia but raised in Manhattan, chose to make the majority of his films in New York. From the iconic 12 Angry Men in 1957 to the captivating Before the Devil Knows You're Dead in 2007, Lumet's affinity for the city shines through. In his deliciously melodramatic adaptation of Mary McCarthy's 1963 novel, The Group, the wedding guests enjoy a lavish lunch at the historic Brevoort Hotel before merrily following the newlyweds to the subway, cheerfully showering them with rice as they descend the stairs. This monumental film production, with a whopping budget of $2.6 million, presented an under-ambitious taking for the city, boasting thirty-five locations, over fifty meticulously crafted sets on sound stages, and a colossal collection of more than a thousand costumes, as Maura Spiegel reveals in her mesmerizing biography "Sidney Lumet: A Life".
#7 Miracle on 34th Street (1947)
New York City during Christmas is like no other place, and a big reason for that is the iconic movie, Miracle on 34th Street, from 1947. This delightful film revolves around a Santa Claus working at Macy's who insists he is the one and only Kris Kringle – so much so that he ends up in court trying to prove it! The story is enchanting, and it might just ignite a spark of childlike wonder in you... and maybe make you want to shop at Macy's more often too.
#8 Coming to America (1988)
>Prince Akeem's hilarious quest for love and the mind-blowing shape-shifting performances by Murphy and Arsenio Hall reflect the endless possibilities of reinventing oneself in the vibrant city of NYC. Akeem, while charming his love interest, Lisa (whose father, coincidentally, owns a strangely familiar fast-food joint called McDowell's), boldly affirms, "When you find what you seek, no journey is too grand."
#9 She's Gotta Have It (1986)
>Spike Lee embodies the essence of a classic New York filmmaker. His debut feature film, "She's Gotta Have It" (1986), holds a special place in our hearts. Its cultural significance led to its preservation by the Library of Congress and the United States National Film Registry in 2019. Meet Nola Darling (played by Tracy Camilla Johns), a woman who refuses to settle down with just one man. Instead, she chooses to be with three completely different men, sparking an intriguing tale of relationships, revelations, and New York City charm. This timeless gem from Lee's prolific career remains a delightful watch even after nearly four decades since its release.
#10 If Beale Street Could Talk (2018)
Look, if you're into romantic dramas, then you gotta check out this absolute gem of a movie from 2018. "If Beale Street Could Talk" is hands down one of the best New York City flicks you'll find. It's based on a novel by James Baldwin and tells the timely tale of Fonny, who gets wrongly accused of rape. But fear not, his awesome pregnant partner Tish is on a mission to prove his innocence. This whirlwind story is set in a bustling city, and let me tell you, it's one for the books!
#11 The Apartment (1960)
>This Billy Wilder classic hardly shows any glimpse of New York City, but the power dynamics within the city are felt in every frame. The Apartment delves into the story of Jack Lemmon's character, a mid-level organization man at a big insurance firm. In his pursuit of career advancement, he lends his apartment to his bosses for discreet affairs, until things get complicated when he falls for Shirley MacLaine's character, an elevator operator. It's a biting commentary on the misadventures of men in the workplace in the city, an idea that fueled seven seasons of Mad Men, also set during the same era. Additionally, it effectively captures the claustrophobic atmosphere of Manhattan living, much like Rear Window.
#12 Rent (2005)
Rent, after rocking Broadway, took the cinematic stage in 2005 and had a blast of success! The flick captures the journey of a vibrant crew of young Bohemians in the East Village. They battle with life, love, aids, and the profound imprint they'll leave on their nation. Brace yourself for a perfect portrayal of the East Village, a melting pot of tales where folks meet, mingle, and sometimes part ways.
Conclusion
>New York life can sometimes feel like a scene right out of a movie, whether it's strolling through any park on a perfect autumn day, squeezing into a cozy booth at a charming classic restaurant, or riding the Q train over the East River. This bustling city is filled with countless memorable moments, serving as the backdrop for decades of hilarious, romantic, and deeply touching films. If you watch this handpicked selection of movies, you will understand why New York is incomparable.
Read More