5 Pointz Aerosol Art Center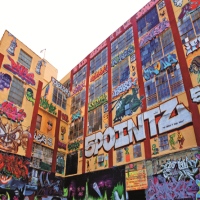 Graffiti Art In New York!
A mecca of graffiti and a place where graffiti enthusiasts come and visit the park. 5 Pointz Aerosol Art Center is a local attraction in New York where everyone can come and enjoy the great works of art from many great graffiti artists all over the world.

It is a place of expression and open mindedness where you get you learn and appreciate creativity. Everyone can come and see the beauty of art and expression. The park is free for everyone who wishes to visit and appreciate the art of graffiti.