Ryan Brenizer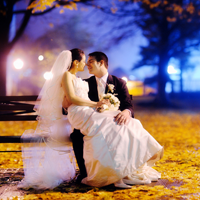 Not just memories but lifetime of happiness
Wedding photography is the best way to immortalize your special day. You only get one chance (hopefully) of capturing your wedding day, so it is wise to employ professional wedding photographers for this important task. Do you want to look back fondly and remember just how great your wedding was, how happy all of your family and friends were or will you look back regretfully having wished you hired an experienced, professional photographer? After all, what happens to the rest of the day? Flowers wilt. Cake and champagne disappears. The groom's tuxedo will go back to the shop. The bride's veil likely won't blend with the dress code at the office. But photographs...brings lifetime of happy memories.

Ryan Brenizer will not only capture moments of your special day but also will bring the memories back to life. He is one of the highly sought wedding photographers in NY.