The Good Dog Foundation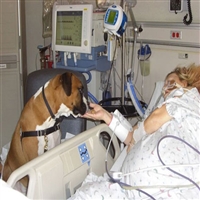 Not only a man's best friend but a man's healer too!
Animal Assisted Therapy in NY is one of the highlights in medical progress. In recent decades, there have been countless stories of animals helping to improve and preserve the lives of children and adults with all types of diseases and disabilities. Trained dogs are being used to help keep children with autism safe and break the "freeze" that can afflict people with Parkinson's disease when they try to walk. Dogs, cats, bunnies and birds are often brought to schools and institutions, as well as hospitals and nursing homes, where they help relax and inspire residents and distract patients from their health problems.

Good Dog Foundation provides animal assisted therapy in NY. The foundation offers animal assisted therapy services in a variety of settings such as prisons, nursing homes, mental institutions, hospitals and in the home. Assistance dogs can assist people with many different disabilities; they are capable of assisting certain life activities and help the individuals navigate outside of the home. This is proven and tested by countless patients.