Indoor Extreme Sports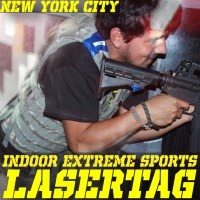 Unique Style of Laser Tag you Won't Want to Miss!
Looking for something different from everyday activities? Get unleashed in the Asylum themed labyrinth and play with paint-ball guns modified to play laser tag. These guns go BANG, BANG! If you, by any chance, get bored you can rearrange the configuration of the maze as the field is equipped with a unique pocket wall system. After your game, relax in the Asylum lounge with X-Box's, big screen projection and flat screens. You can bring your iPod and make a party on an in-house sound system. Asylum is a perfect New York laser tag facility for private events, birthday parties and everyday group outings.
Out of all the places to go laser tagging in Long Island, Indoor Extreme Sports is one of our top picks. The pricepoints are listed below and are extremely affordable and reduce as the party size increases. Therefore, if you are throwing a big birthday party, you only do better as more people join in on the fun! These parties are good for people of all ages, even adults! Indoor Extreme Sports has coined there unique Zombie style laser tag!

Check out their video here to get a sneak peak at all the excitement of their Zombiefest!
Hours of operation: Tuesday to Thursday 1 PM-11PM, Friday 1PM–1AM, Saturday 10AM –1AM, Sunday 10AM–8 PM. Pricing: Tuesday-Friday $28/player; Saturday-Sunday $32/player.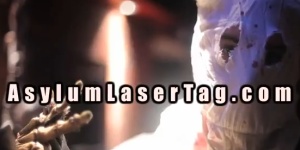 The tournament style gameplay is perfect for any kind of birthday party you are planning on throwing. Their arena is 60 ft x 22 ft playing field complete with bunkers, towers and other obstacles to use as coverage for a tactical advantage. Games are generally fast paced and are finished between 2-3 minutes depending on the skill and recklessness of the players! So come on over to Indoor Extreme Sports for an exciting fun time!