Cornell Plantations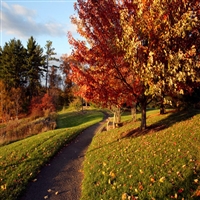 A purpose driven greenery
Cornell Plantations is a one of a kind place alive with plants, purpose, and a presence that truly distinguishes this place among the many gardens and arboretums in NY. Their mature botanical garden, arboretum, and diverse network of nature preserves help make Cornell one of the most beautiful campuses anywhere. Cornell Plantation's leadership in environmental conservation and education is truly marvelous. Their main purpose is to help protect native species and habitats in the plantations natural areas, throughout the region, and beyond.

Not long ago, this place was part of a working farm, and served as a pasture for the Cornell Department of Animal Science's herd of Black Angus cattle. How this place turned to be one of the most visited gardens and arboretums in NY is a legend. It's not only the vast greenery that makes Cornell Plantations a perfect place to spend the afternoon, but also the calm ponds that support a collection of water plants and wide life. Be inspired and get closer to mother earth as you stroll along the scientific study and public exhibition of a diversity of trees and shrubs.