Harris Hill Amusement Park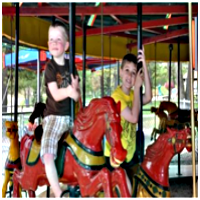 A Fun Day Out with Your Tots
Are you planning a trip to NY and intend to visit with toddlers? Well, make sure to head down to Harris Hill Amusement Park for a day of thrilling entertainment and endless fun. Touted for being one of the best toddler attractions in New York, this amusement park is the ideal place for children. Preschoolers will not watch older kids enjoying all the fun thanks to the good selection of kiddie rides that are available at the park.

The little ones can choose to ride bumper cars, boats and airplane rides or the mini-carrousels. Tickets go for a reasonable rate of $1.35 per child. The park also has an onsite ice cream shop and picnic area. Before visiting, check opening hours at the official Harris Hill Amusement Park website because open hours vary depending on the season.