Liberty Science Center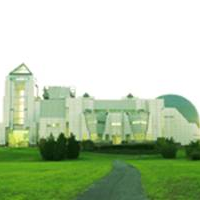 The Only All-In-One Museum, Zoo & Aquarium in NJ!
LSC is on NYC, NJ and national "Best Of" lists. Why? It's a top-quality museum, zoo, and aquarium all wrapped into one. Discover live animals in 3 galleries, massive aquaria full of fish and other aquatic life, science shows all day, one-on-one Pocket Science experiments, real lab experiences, and films in the nation's largest IMAX Dome Theater. Find adventure in eight major exhibit galleries, the outdoor Wildlife Challenge obstacle course (seasonal), and our #1 experience -- the Touch Tunnel. It's a pitch-black, crawl-through maze! Check LSC.org for the latest traveling exhibits and film options. Ask about Scout programs, Camp-in overnight stays, free performance spaces, and days designed just for "special needs" students. LSC is conveniently located in Liberty State Park, Jersey City, near the Statue of Liberty and has easy parking, a full-service cafe and a large "science-to-go" store. Call 201-253-1310 or see LSC.org. Find us on Facebook!