Lollipop Pony Parties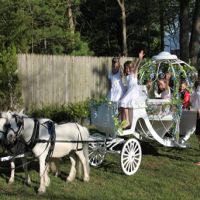 Memories of a Lifetime for Your Child!
Lollipop Pony Parties is a Long Island family run farm where ponies ride along goats, sheep, rabbits, chickens, duck and a llama. The owners live there and take care of the animals. The parties are held outside the farm, at any place you pick - your yard, churches, parks, schools, etc. Ponies are dressed up in princess and cowboy styles according to your preference.

Children will be excited to meet the ponies and to take a ride on them or in the small carriages crafted especially for them. Started in 2013, Lollipop Pony Parties introduced a Princess Carriage, built by the manufacturer of the Disney Carriages! Let your girl make a grand entrance at her birthday party!