Magnolia Bakery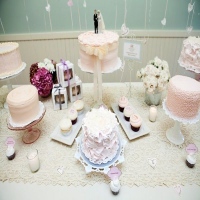 A Deconstructed Wedding Cake That Is Simple Yet Beautiful!
Magnolia Bakery is the home classic American baked goods where they specialize in cupcakes that are mouthwatering and absolutely scrumptious. The bakery also offers wedding cakes, a deconstructed style of wedding cake that is simple yet beautiful, elegant in design and rich in flavor. Your wedding day will be complete with a Magnolia Bakery wedding cake.

Magnolia Bakery is the place where the pastries are just simply delicious and delectable. So have a wedding cake custom designed by Magnolia Bakery and make your wedding day complete.