McCarren Park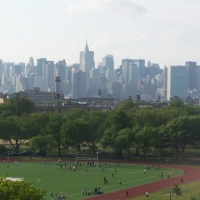 Strolling And Relaxing At McCarren Park!
McCarren Park is a place where you get to enjoy the outdoors and spend time appreciating nature and the fresh air. You can come sightseeing and enjoy watching people play soccer, baseball, basketball or tennis. You can also join them in playing outdoor sports.
So come to McCarren Park and have a break from the hustles and bustles of New York and rest and let your mind wonder. The park is open to the public, anyone who wishes to come is more than welcome.