Pony and Pal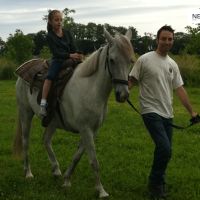 Best Pals in the World!
Pony and Pals is a family run farm in Monmouth County which serves New Jersey and the Staten Island areas. They bring the party to you! Champion blood line ponies, race horses, a mini horse the size of a dog, chickens, goats, lambs, and bunnies are all very friendly and can be rented by the hour for your child's next birthday.

The pony parties are available as such, or as part of the petting zoo. Prices vary depending on location of the party, the number of hours and the amount of ponies. The party can be set up in a garage, a patio, a deck, or in similar locations you have available. You can save up to $50 when booking online.