Arbor View House Bed and Breakfast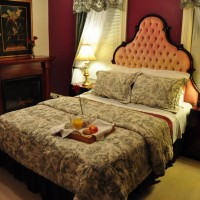 History of the Inn
Arbor View House Bed and Breakfast was built early in the 18th century (circa 1780) and was originally in the Federal style. Around 1873 it was purchased, added to and renovated in the then current Victorian manner by Captain Vail. The Vail family is one of the earliest families to inhabit these shores. This house is one of three remaining houses built or renovated by whaling Captains in East Marion, originally called Little Oysterpond. Arbor View House is listed by the Society for the Preservation of Long Island Antiquities (SPLIA) and is considered to be a fine example of Victorian architecture. It was lovingly restored and renovated in 1999 preserving its artifacts and replacing any that may have been removed.
Our Location
We are located in the bucolic village East Marion two miles east of Greenport and before Orient Point, the maritime village is not unlike Sag Harbor in the Hamptons. Greenport was a whaling village in the 18th and 19th centuries. It is no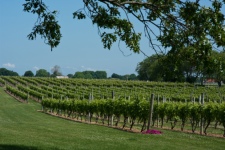 w a beautiful seaside village with many of the old whaling captains' houses still standing on Main Street.

We are also located in the heart of New York's newest wine region. While you are here be sure to schedule a VIP wine tour of the vineyards and wineries, they are unlike any you have ever seen. Take the day to explore the region, go ice skating or ride the Greenport carousel, walk on the beach at Orient State Park. Renew your vows on Love Lane in Mattituck or get married in Cutchogue at one of the beautiful vineyards. The beauty and romanticism of New York's newest wine country will take your breath away.
About the Arbor View House
Our philosophy is simple, to offer you the finest accommodation similar to that of a fine boutique hotel and pamper you with world class service. Therefore, if it's lodging accommodations that are sophisticated, knowledgeable, elegant, romantic and luxurious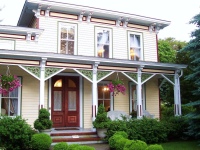 that you want, then you've found it.

We are one the best bed and breakfasts in Long Island and have won many awards over the last 14 years. We offer amazing full gourmet three course breakfasts, heavenly beds, great concierge service and a clean warm comfortable house. We have won the prestigious Trip Advisor "Circle of Excellence" award in 2010, 2011, 2012 and 2013. This award was won as a result of the numerous excellent guest reviews. We have the most reviews of any Long Island Bed and Breakfast property.

Our B&B has been cited and recognized by The New York Times, Fodor's, Dan's Papers of the Hamptons, Long Island Pulse, Long Island Business News and many other publications. We are proud to be rated as one of the best Bed and Breakfasts in Long Island Wine Country.
Our Rooms
Champagne Suite
Our largest room is sparkling and luxurious with a King-size Sleigh bed with Sealy Posturepedic mattress for your comfort. It is crisply decorated in muted garden florals with Brazilian cherry hardwood floor and a mix of antique and antique reproduction furniture. Its beautifully ceramic tiled en-suite bathroom with whirlpool tub and shower has brass and chrome fixtures. This room has access to an optional private deck that may be reserved upon request. The room's décor r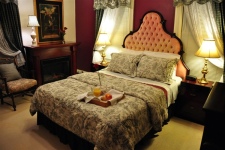 eflects the charm and authenticity of this renovated Victorian Bed and Breakfast. Step down into opulence and step back into the past. A Flat screen TV with a DVD player and a gas fireplace complete this cozy room.

Merlot Room
This room is decorated with a bold flair, which takes you back to Victorian times. The headboard sets the theme for this room with its tufted velvet back. The room is bright and spacious with a high ceiling with an old world brass and wood ceiling fan. The floor is finished in the cherry stained color of the original Victorian wide yellow pine planks. Decorated in black and white toile, with burgundy accents, and is stylishly fitted with a Queen-size bed with a Sealy Posturepedic mattress, two nightstands, side table, and dresser. The private en-suite bathroom features a modern cast-iron soaking tub and shower with ceramic tiles on the walls and floor. An electric fireplace and flat screen TV/DVD completes this room.

Rose Room
This room has been recently re-decorated, in gold and rose. It is romantic and charming. We have added a mahogany four poster Sealy Posturepedic bed dressed in sumptuous gold with rose accents. All this lends a warm and romantic glow to the room. It is spacious, bright and has a Brazilian Cherry hard wood floor complemented by a hand woven wool rug. The beautifully tiled en-suite bathroom has a modern cast iron tub and shower with brass, chrome and ceramic fixtures. An electric fir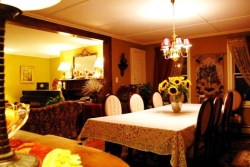 eplace, ceiling fan, dresser, nightstand, side tables, HDTV with cable box of channels, chairs and reading lamps complement this beautiful room. This romantic room is bright, quiet and has a view onto landscaped gardens and grape arbor.

Zinfandel Room
Awaken to the birds chirping in the garden. Smell the roses from the rose garden and the sweet smell of grape blossoms from the grape arbor. This bright, cheery and quiet room looks out onto the garden and the grape arbor. It is spacious, sunny and has wall to wall Berber carpeting. The Four-Poster King-sized bed with a Luxurious Shifman mattress is dressed in florals. The beautifully tiled en-suite bathroom has a whirlpool tub and shower with brass and ceramic fixtures. A Flat screen TV and DVD player complete this room.
Accommodations and Spa Services
Some of our many accommodations include air conditioning, fresh towels every day, Posturepedic & Shifman beds, robes and slippers in each room! Enjoy electric fireplaces in all the rooms, flat screen TVs, cable and DVD players. Enjoy private luxury bathrooms, Wi-Fi and a private deck!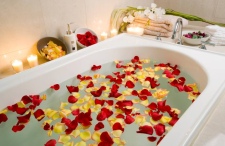 The best feature of Arbor View Bed and Breakfast is the spa services! You and your partner will want nothing more than to spend a romantic day filled with relaxation and pampering. Enjoy one of several massages that overlook the beautiful vineyard! They have Swedish massages, couples massages, hot stone massages, maternity massages & sport massages. They also have specialty spa services upon request.

For more information follow us on Twitter
or 'Like' us on Facebook
!