SunKiss Ballooning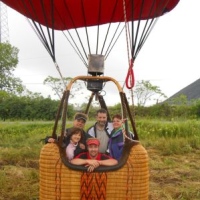 A Hot Air Balloon Ride in NY You'll Never Forget!

Nothing is more breathtaking than viewing the gorgeous landscape of the Adirondacks from hundreds of feet in the air. Here at SunKiss Ballooning in Upstate NY that is what we do every day. Have you ever wondered what it is like to gaze below at the vast rolling greens of the Adirondacks and Upstate NY from a hot air balloon? Book your balloon trips with SunKiss Ballooning to stop wondering and see for yourself!

Your flight with SunKiss Ballooning will give you a taste of this unique experience. Our flights pass over the wonderful farmlands of Warren, Washington, and Saratoga counties with breathtaking views of Lake George, the Adirondacks, and the rolling hills of Vermont.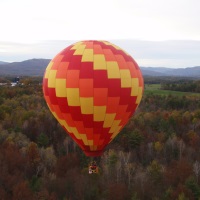 Find out more about your Pilot and Owner...

My name is Todd Monahan, owner and Principle Pilot at SunKiss Ballooning. For my entire life I have been chasing balloons with my twin brother Scott, that is why it was only natural that I followed my passion and started SunKiss Ballooning. With Scott as my crew chief we have a generation's worth of Ballooning passion and experience.

SunKiss Ballooning has been providing safe and fun hot air balloon rides in Upstate NY for years. We provide a safe, fun filled balloon trip. You will be sure to leave our tour with the memory of an experience that will last a lifetime. Call SunKiss Ballooning today to schedule your hot air balloon ride over the Adirondacks!

My infectious enthusiasm for the sport of ballooning took shape as a youngster, chasing down balloons on my bike during the early years of the Adirondack Balloon Festival. A few years after graduating from SUNY Oswego, I decided to pursue my ballooning dreams and began SunKiss Ballooning.

My principal training took place in Albuquerque, NM, site of the world's largest balloon festival. My team understands the importance of ongoing training and professional development. I'm also in constant contact with pilots around the world about the latest in balloon technology, safety concerns, and more. I've worked with professional pilots in teaching safety seminars approved by the FAA. I'm eager to share my love of ballooning by providing a safe, exciting, captivating, and memorable ballooning experience for you!
For more information visit our website and 'Like' us on Facebook!
Testimonials

My infectious enthusiasm for the sport of ballooning took shape as a youngster, chasing down balloons on my bike during the early years of the Adirondack Balloon Festival. A few years after graduating from SUNY Oswego, I decided to pursue my ballooning dreams and began SunKiss Ballooning. My principal training took place in Albuquerque, NM, site of the world's largest balloon festival. My team understands the importance of ongoing training and professional development. I'm also in constant contact with pilots around the world about the latest in balloon technology, safety concerns, and more. I've worked with professional pilots in teaching safety seminars approved by the FAA. I'm eager to share my love of ballooning by providing a safe, exciting, captivating, and memorable ballooning experience for you! Beth Hogan

We visited Lake Goerge for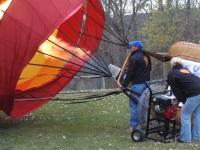 our 32nd wedding anniversary. While there, we decided to cross something off our "Bucket List" and booked a flight with Todd from SunKiss. It was the most amazing and memorable experience we could have asked for! Todd's skill and experience was so obvious and those coupled with his sense of humor put us at ease right away. He couldn't have been more accomodating and truly did everything he could to mark this special occasion. As an added bonus, we formed a new friendship with another couple we met on our flight. I highy recommend SunKiss Balloning whether it is you first or hundreth flight. Thank you Todd for the great memories! Marion and Glenn McIntyre-Simsbury, CT

Called Todd, with SunKiss, asked about a balloon ride during the Adirondack Balloon Fest Sept 26th. I told Todd, this was going to be a special day. As I planned to propose to my girlfriend. Todd told me that he would take care of me but he himself was all booked up. Kept in touch with Todd during the planning stages. he told me to meet him the AM of the ride. I get there at 6 in the morning to find out that Todd re-arrainged his schedule to fit us in with him. Todd and SunKiss are a class act, would recommend anyone interested in Ballooning consider them!!! Oh and by the way, she said yes!!! Josh Green