Rockefeller Center Ice Rink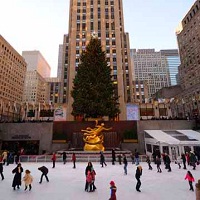 One of the Most Popular Ice Skating Rinks in NY
If you are looking for an authentic New York City ice skating experience, come to Rockefeller Center Ice Rink. The rink is open from October to April, and attracts more than quarter of a million skaters during season. It can get really crowded during holidays, so the best time to skate is in the early morning or on weekdays before 4 p.m.


Prices vary depending on the day and week. The usual admission prices are $20-25 for adults, and $12-15 for children.