Seaton Hackney Stables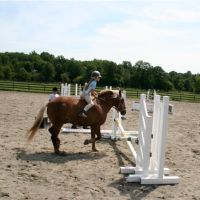 Pony Parties and Pizza, what can be more fun?
30 miles from NYC, Seaton Hackney Stables aka PonyShare has been offering pony parties and riding experiences for 25 years to children from 3 - 13 years. The pony parties can be held at the stables or at your location, anywhere in New York.

For the safety and full accommodation of the kids, they will have a hostess and a helper who will be with them during the party. They kids will get unlimited pony rides and mini cart rides, complimentary pizza and drinks. If you want to bring a cake, a 15-20 minute space will be reserved for serving. Hurry up and book your date, they accommodate only 2 parties / day.