Twinkle World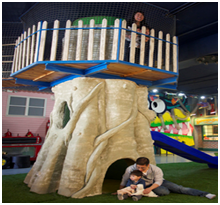 Enjoy Endless Fun with Your Little One at Twinkle World
When looking for a unique place to enjoy fun-filled activities with your young one, Twinkle World is one of the best toddler attractions in NY that you must visit. This 4500sq foot indoor play space has plenty of theme-based play equipment that will stimulate any child's wildest dreams. Let your tot have endless fun while climbing up the stardust tree fort, playing with the fire truck, dancing in the disco studio or even enjoying a beauty pampering session at the pretend salon.

Other play stations that stimulate imaginative play include a grocery store with fake fruits and vegetables, a custom-made barnyard and a play zone with papier -mâché dragon heads. Twinkle World is simply a great place for kids to make new friends and have a blast. This play space is open Monday through Friday from 10am-5pm and 10am-2pm on weekends.